When it comes to golfing in Malaysia, nothing beats the state of Selangor, home to 30 private and semi-private courses many of which are accessible to the public. But the challenges provided by the natural undulations of the greens and fairways of Kelab Golf Seri Selangor makes the country's first bona fide public golf course stand out as one of the strongest tests in championship golf.
As it is popularly known, Seri Selangor offers a spectacular layout that forces you to utilize all your skills and creativity in the hope of going away feeling like you've conquered Mt Everest! And yet, Seri Selangor entices you to return for more, to make that birdie rather than the frustrating double bogey you carded on the short and seemingly easy Par 4 11th. With reachable par 5s, deep bunkers, elevated tee boxes, fast, two-tiered greens, and fairways guarded by centuries-old trees on both sides … Seri Selangor is a Ross Watson masterpiece enjoyed by the regulars and waiting to be discovered by the first-timers.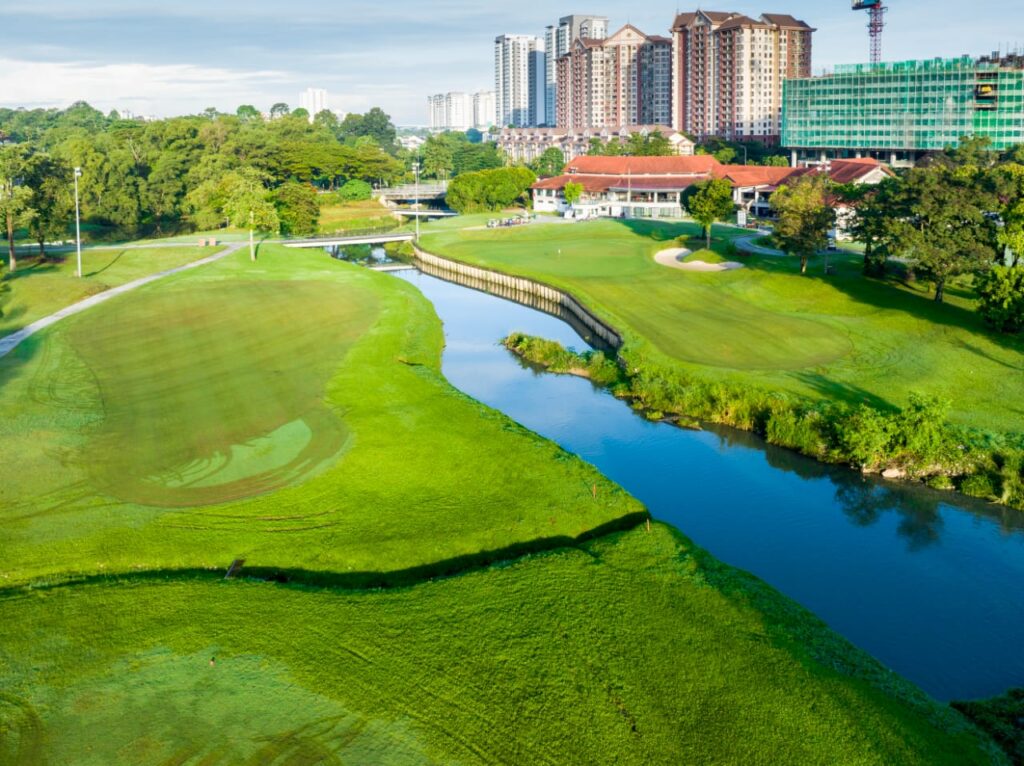 Seri Selangor was a project of the Selangor State Development Corporation (PKNS) and launched in 1998 to much fanfare, as it was set out to become Malaysia's first true public facility. PKNS' vision was to provide a sustainable golf experience that was affordable and accessible to all.
Queenslander Watson, having garnered much experience designing award-winning courses such as
Robina Woods in Queensland, The Vines in Perth, and a host of courses in Malaysia including Kota Permai GCC, Horizon Hills GCC, Impian GCC, Staffield CR, A'Famosa GCR, and Tropicana GCR, was elated and excited at the prospect after inspecting the land. He decided that he would put together 18 memorable holes to test golfers of any level.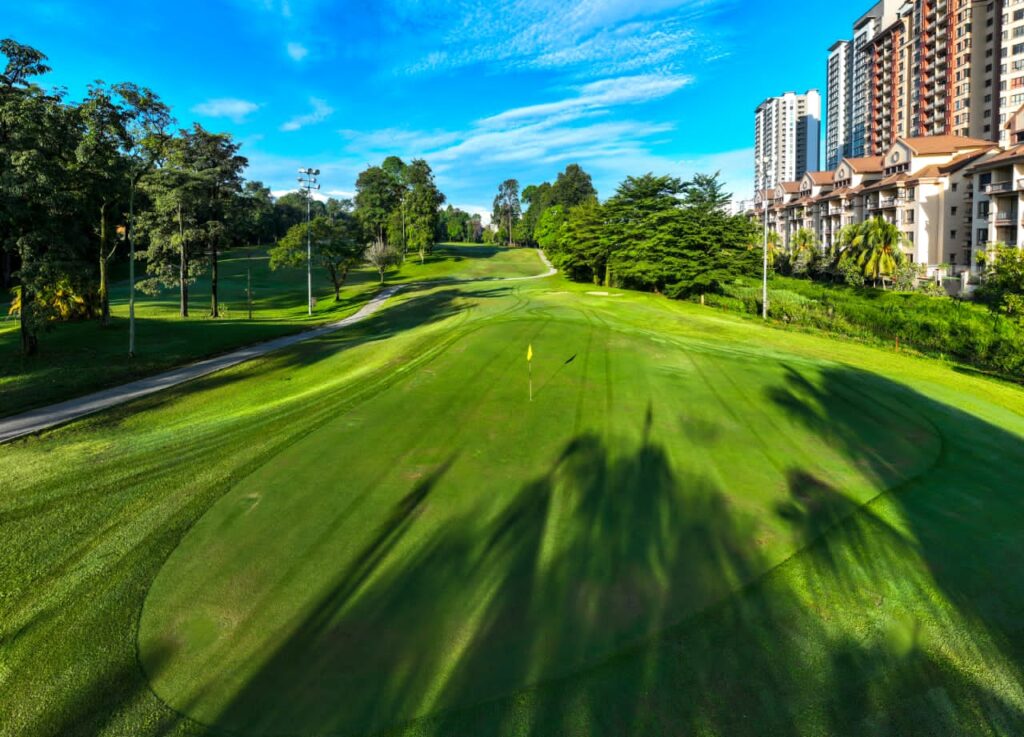 As Watson had promised, Seri Selangor quickly established itself as a championship course and successfully hosted the Worldwide Selangor Masters which was on the Asian Tour; the World Cup Qualifying for Asia Pacific nations, and, various corporate events. When Seri Selangor hosted the 2006 Malaysian PGA Championship, it came as no surprise to the club that the winner, Iain Steel, would finish the four rounds at even par. Watson was vindicated. Seri Selangor is no walk in the park, and the club's reputation just keeps on growing.
One of the early impressions that strikes your mind as you climb up a short flight of steps into the clubhouse, is the spacious, airy atmosphere. There is an abundance of openness and you get a fabulous view of the 18th green from the lobby as you stride towards the registration center on the right. There is a modern feel about this place, thanks to an injection of RM12 million by the owners PKNS which allowed the clubhouse and course to undergo an extensive makeover that was completed late last year.
The men's and women's locker rooms are bigger, and so are the cafe and surau. The eye-catching two storeyed pro shop is managed by MST Golf, the region's largest retailer. The upper level of the pro shop boasts an area for club testing, which makes Seri Selangor the only club with such a facility – club testing in a pro shop within the clubhouse. Believe it or not, the Starter Hut is air-conditioned! Above the hut is a strategic lookout point or "crow's nest", a structure commonly found in whaling ships. It provides scenic views of the 18th and 10th holes.
The large practice green allows you to make all sorts of putts, whether uphill or downhill with severe or subtle breaks. It is common to see many golfers chipping and putting them here throughout the day. After all, it is the only practice green in the city of Petaling Jaya that is open to the public.
The Banquet Hall is large and caters to weddings, dinners, seminars, and conferences and can hold up to 200 seats. Prize-giving lunches for corporate tournaments are usually held here although the newly furbished Cafe Seri Selangor which can seat 130, is fast becoming popular for prize-giving luncheons. Mainly because it affords fantastic views of the 10th and the finishing 18th hole. There is ample parking space outside but the bag drop-off area is indoors, which is unique.
Having parked your car after dropping off your golf bag, you are ready to hit the fairways if you didn't need to go to the locker room or have a bite at the Cafe. The buggy station is located where you dropped off your bag, and from there the caddy master directs you to the Starter Hut. The first nine holes, known as the Mahogany Nine, are located to the right of the clubhouse. You must drive the buggy across a bridge first and then through a tunnel underneath a road. Pretty exciting stuff!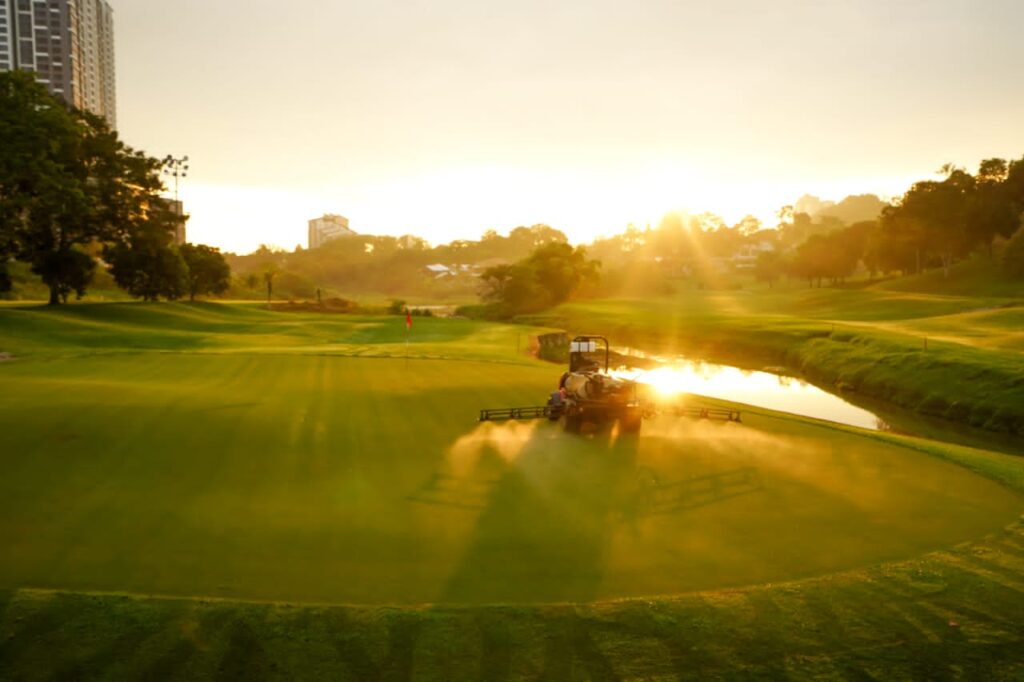 As you approach the tee box of the first hole, you are quickly aware that this is not a run-of-the-mill parkland course. In front of you lies a fairway that gently climbs uphill with two fairway bunkers on the left to trap tee shots as well as a heavily wooded crop of trees on the right of the landing area. So early in your round, you quickly realize that a round of golf at Seri Selangor is not a walk in the park. Far from it!
Seri Selangor is not a long course, measuring 6,329 metres from the back and 6,043 from the regular men's tees. There are only 51 bunkers in the layout and water comes into play on eight holes. Seri Selangor is tricky and can bite you when you least expect it. The average green speed throughout the year is 9.5 feet on the stimpmeter. However, for tournaments or professional events, the greens can be mowed to 11 feet which is incredibly fast on such contoured greens. Challenging as this course may be, it has plenty of drama built in to provide golfers with lots of enjoyment, especially with not one, but many memorable holes. It is no wonder then that the club's General Manager Hairul Zaini claims that 60 percent of his rounds are made up of regulars – an impressive figure considering that KGSS is a public course.
Seri Selangor, managed by PKNS Golf Management Services Sdn Bhd, chalks up an impressive average of 5,500 rounds a month – a tribute to PKNS' pledge to make this course accessible and affordable. Golf purists will fall in love with this layout. And thank Ross Watson for his work of art.
Kelab Golf Seri Selangor Etiquette Rules
Always be early for your tee time. 

Avoid slow play.  Don't be the slowest player in your group. 

Keep your emotions and temper under control. 

Respect other people's time. 

Respect the course – repair pitch marks, fill divots with sand, and rake bunkers. 

Maintain silence when your flight mate is hitting the ball. 

Turn off your cell phone, or, keep it in Vibrate or Silent mode. 

Be aware of the golf club's Rules and Etiquette. 

Always follow each golf club's dress code. 

Choose the tee box according to your skill level. 

Allow faster groups to pass through. 

Avoid stepping on the putting line of your flight mates. 

Do not stand close, directly behind the player, or behind the hole when he is about to make a putt. 

Always mark your ball before a round. 

Always observe inclement weather warnings.  Seek shelter immediately when the siren is sounded. 

Respect your caddies.  They are trying their best to give you an enjoyable experience.  Don't forget to tip. 

Refrain from smoking cigarettes on the course. 

Always enter bunkers from the low side.